Craftsmanship
To us, sustainability is much more than just using fabrics that are eco-friendly. We are always committed to responsibly producing all of our garments in women-owned and family-owned studios within the Bay Area and New York City. Every piece is handcrafted to ensure its quality will last a lifetime. We love developing long lasting relationships with talented creatives. This allows us to support our communities and their intricate craftsmanship that would have been left behind by mass corporate productions.
Design Process
All of our designs start with a mood board to organize the inspiration and ideas together in one place. From there, we use leftover muslin or deadstock to create the initial sample. Over the course of 6-8 months, we revise dozens of patterns and samples per design. It's critical for us to host model fittings with every single body type, size, and height in order to learn how the garments flow on each woman. We truly believe in slow fashion and take a lot of pride in our extensive development process.
Produced To Demand
Our philosophy has always been to produce only as much as we needed to prevent any excess waste. This allows us to maintain meticulous quality craftsmanship for each individual garment. We quality inspect every single piece so there are no loose seams or missed stitches. This is why we run mostly on pre-orders so we can sell through all of the garments we make. We have produced and will always strive to only produce to demand.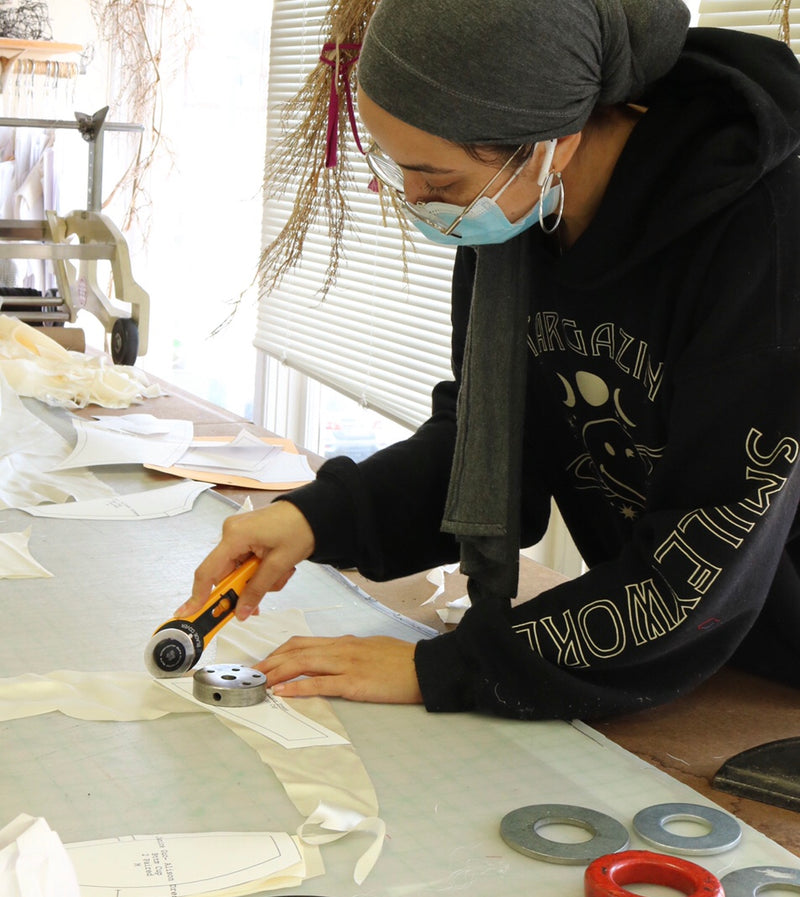 Sustainable Fabrics
We always like to source deadstock since that allows us to repurpose fabric that was over-ordered from warehouses or simply leftover from another large fashion house. Although we loved dead-stock, it is often very limited. When we aren't using deadstock, we always utilize fabrics that have less of a negative environmental impact such as our electricity-free khadi cotton. We conduct thorough research to ensure the fibers are natural and do not cause pollution during production process.